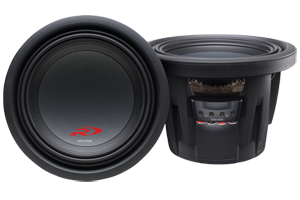 Deals That Rock

Get more bass for less!

2011 Model Blow-out!

Type R

Alpine Type-R subwoofers play loud, clean, and long. The Type-R's are designed from HAMR Engineering, Alpine's exclusive subwoofer solution for cooler operation, longer life, and tight, accurate bass. The main philosophy behind HAMR Engineering is to ensure the ultimate sound quality and performance through the use of highly advanced materials and patented design technologies such as magnetic, structural finite element analysis, and a 3rd generation CRC motor structure. The Type-R subwoofer features an ultra long linear excursion for dynamic, realistic sound. Exclusive cooling technologies contribute to huge power handling capabilities. You can depend on the Type-R to compliment your system with deep, accurate bass.

Type S

Bass for your Space.

Want great performance from a sub that won't take up that much room? The new Alpine Type-S subwoofers feature a shallow mounting depth design, so you can get tight accurate bass in smaller spaces. An advanced airflow system including a stamped steel basket design with leg venting cooling keeps the bass going while keeping your sub cooler. Round out your system with the Type-S sub, and V-Power amplifier for the best match in performance.

Type E

High performing bass at an affordable price.

Want to boost your bass without breaking the bank? The Type-E Subs are the solution for your vehicle.
MRX Amplifiers
Introducing the new digital X-Power series of Class-D amplifiers. The X-Power amplifiers incorporate many of Alpine's PDX advanced digital technologies at an affordable price. Don't let their small size fool you, these amplifiers were specifically engineered to offer performance, sound quality and reliability at PDX standards.

Type R

SWR-1243D $169.95
SWR-1223D $169.95
SWR-1043D $159.95
SWR-1023D $159.95
Type S

SWS-1243D $99.95
SWS-1223D $99.95
SWS-1043D $89.95
SWS-1023D $89.95
Type E

SWE-1243 $69.95
SWE-1043 $59.95
Amplifiers

MRX-M100 - $299.99
MRX-M50 - $169.00
MRX-V60 - $249.95
MRX-F30 - $179.95
CD Players

CDE-HD137BT - $179.99